Larry Cherubino
Porongurup, WA
I'm a first generation Australian. At school, whilst other kids had meat pies and vegemite sandwiches for lunch, I had roasted pepper sandwiches and homemade sausages. With my uncles and aunts pressing grapes on their farms and in their backyards, and my own family at one time having a small vineyard, it's clear where my interest in wine originated.
As I was starting my work in wine, we were also embarking on our life journey. During my career, I've been head winemaker at Houghton and a traveling consultant. I designed vineyards and wineries, and work took me overseas to New Zealand, USA, France, Italy and South Africa.
Edwina and I purchased our first parcel of land in Frankland River in 2004 with dreams of planting our own vineyard. It was a small parcel that had originally been part of a large, historic land holding called Riversdale. A few years later we had the opportunity to buy the neighbouring vineyard, and acres of prime river and vineyard country. We didn't hesitate as we knew its potential.
Larry Cherubino Wines began in our spare room in 2005 with the release of one wine. A lot has happened since. The range has grown, and along the way, we've been honoured to be listed as Winery Of The Year by respected wine critics such as James Halliday and Matt Skinner.
One of my first jobs out of university was an internship with a company that grew and sold fresh produce. I had grown up on the land, so knew what growing quality produce meant, but this experience with fastidious customers really underscored the value of provenance.
When you sell fruit to a shop, there might be ten different grades for assessing quality. And consumers know how to make their own judgement on what they buy at the market. But when it comes to wine, people are a step away from the raw ingredient. They can't make a judgment about the grapes the way they can with other fresh produce. They aren't even sure about the questions to ask. It's little wonder that people may be confused about the winemaking process.
Provenance is the source of the grapes and the skill of the grower. These are the most important elements to me because winemaking is a conversion process from grape to glass.
I was a winemaker long before I was a grape grower. I know how to play with technique and style. But at the end of the day, if the grapes aren't great, nothing will disguise that fact. Good wine is relatively hands-off. You should have done all the work in the field. I don't think too much about what I'm going to do in the winery because I know that if the fruit is great, you shouldn't have to do a lot. What I do think about is the character of the fruit, and what I need to do to bottle that.
For me, making wine means growing grapes.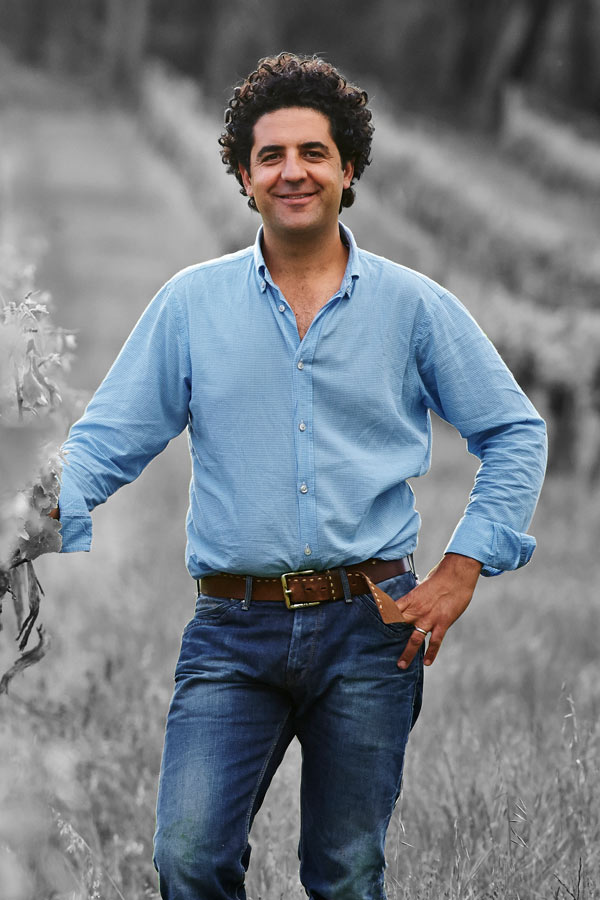 ---
Cherubino 2016 Great Southern Riesling
---

THE VINTAGE
From Porongurup to Frankland River conditions were excellent throughout the season. The winter and spring lead-up were dry but that eased with good rainfalls during January which brought much needed moisture for vine growth and yields. The wines have great verve and freshness.
THE WINEMAKING
The fruit was hand-harveted and grapes were grently de-stemmed. The free-run juice was fermented using natural yeasts, followed by a long, cool fermentation between 10-12 celcius.
THE WINE
Chalky mineral aromatics with lemon and lime. Tight knit acidity with chalky mineral flavours coming through on the pallet. Acidity is long and fine with a steely structure and lengthy finish.
DRINK WITH
Freshly shucked Oysters.
ANALYSIS
Vineyard: Various
Bottled: July 2016
Alc/Vol: 12.4%
TA: 6..97 g/L
pH: 2.96
---
Cherubino 2014 'Rivers End' Cabernet Sauvignon
---

THE VINTAGE
The 2014 warm summer cooled off in April, allowing fruit to ripen at a lesurely pace. Both Frankland and Margaret Rivers' had an outstanding above average rainfall through the Winter and Spring months. Spring's exceptional conditions allowed the gentle warming and for fruit set. Continuing on with dry and warm days through to April provided excellent quality yields with incredibly fresh and vibrant juice from the region.
THE WINEMAKING
The fruit was hand-harveted and transported to the winery where it was cooled overnight and hand sorted. Maceration lasted for six weeks with minimal pump overs and temperatures ranging for 12-27 celcius. The wine was pressed to tank and allowed to settle for 7 days prior to oak maturation. A range of coopers were used in the wine's development.
THE WINE
Typical Margaret River fragrance of red dusty earth with dried bay leaf and fennel seed with black fruit characters of mulberry and black currant. The oak influence is very subtle with clove spice. The texture of this wine is round and plush, with fine, dusty and complex tannins.
DRINK WITH
Roasted veal rack and lentils.
ANALYSIS
Vineyard: Riversdale
Bottled: December 2015
Alc/Vol: 13.2%
TA: 4.80 g/L
pH: 3.60
Buy Cherubino Cabernet Sauvignon