Briony Hoare
McLaren Vale
Fiano
Briony Hoare's interest in wine was sparked at just 15 years of age when she first visited a winery. Then as a graduate winemaker in the 1990's, Briony began to weave her winemaking magic throughout Australian wine growing regions of Mildura, Great Western, Coonawarra, Barossa Valley, Hunter Valley and McLaren Vale.
When Briony wanted to further expand her wine world, she headed for Italy - the home of some of her favourite varieties - where she enjoyed a vintage in Piedmont, in Northern Italy, working with Barbera, Dolcetto, Nebbiolo, Gavi and Moscato varieties.
Back in Australia, a decade long winemaking stint at Southcorp saw Briony work with a multitude of grape varieties, wine styles and fellow winemakers. High profile awards and accolades followed as Briony was named Young Winemaker of the Year in 2003, and won the prestigious Jimmy Watson Trophy with the Rosemount team in the same year.
2002 saw the first Octave barrel in the back shed of Briony's house in McLaren Vale. What started as a home brew continued to grow, doubling to two Octaves the following year.
In 2005 Briony began a wine consultancy and hatched the concept of Beach Road Wines. Just a few years later, Briony's home garage was taken over by the new venture. Beach Road Wines purpose-built winery produces many different varieties of wines with a focus on alternative varieties and unusual wine styles that particularly go well with food.
Briony Hoare's philosophy is "to do one thing better every week". This philosophy has served Beach Road Wines well, particularly since the purchase of the Beach Road Wines' Cellar Door and Restaurant in 2014. This facility houses some of the most spectacular views in McLaren Vale.
Today, Beach Road Wines' restaurant features wood fired pizzas – further complementing their unique Italian varietal wines.
Down to earth Briony and Tony Hoare love stomping grapes, squishing skins and making wine designed to share with friends, family and visitors to their cellar door. In the idyllic McLaren Vale, Beach Road Wines can be simply summed up as stunning.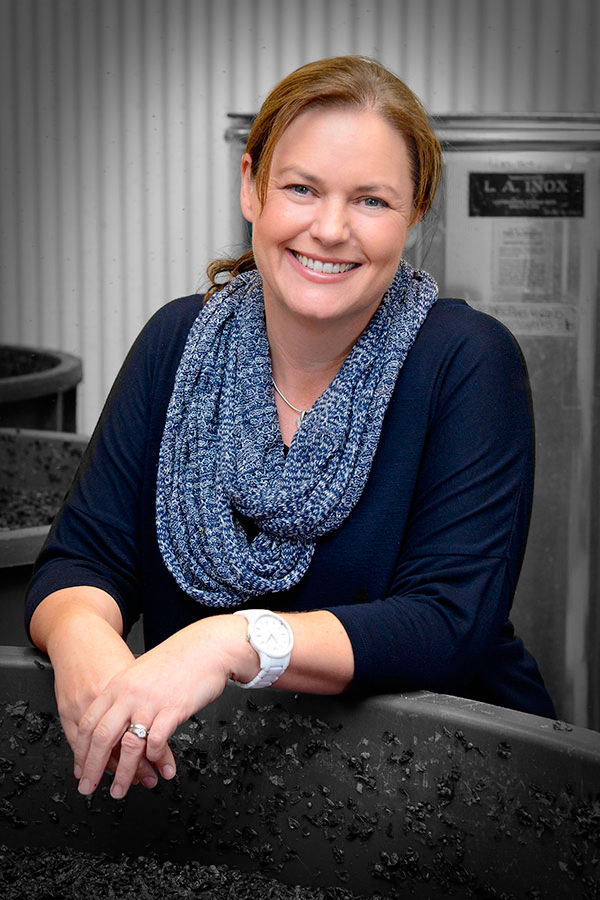 ---
Beach Road by Briony Hoare
2014 Fiano
---

VINEYARDS
Langhorne Creek, Clare Valley South Australia
ANALYSIS
Alcohol 13.5%, pH 3.42, TA 5.35 g/L
WINEMAKER AND PRODUCTION NOTES
2014 introduces a new wine region to our delicious Fiano. With a stunning vineyard in Clare, we have added such a vibrant burst of floral flavour, to support the delicious strength and texture we capture with the Langhorne Creek block. Once again both parcels were picked on flavour, waiting for some of the outer berries to achieve that sun-kissed look to ensure we captured the honey / citrus blossom flavours that I love so much. As a general rule with my Fiano, I am looking for the richer, riper style, resulting in a luscious voluptuous wine.
The fruit was machine picked in the cool of the morning, before being crushed and basket pressed into stainless tanks for settling and fermentation.
The wine was simply clarified and bottled before aging in glass until release in July 2015.
This wine has not been stabilised so please don't freeze or cook in a hot car. Harmless sediment might appear.
TASTING NOTE
Beach Road Wines Fiano is intended to be a vibrant, rich and mouth filling wine; a generous ripe and blousy style that fills the senses and coats the mouth with a focus on texture.
This wine has vibrant green gold hues with a lifted floral aroma of citrus blossom, sherbet, honey cream, roasted nuts. The palate is voluptuous with a creamy texture, with a lingering finish with flavours of peach, thyme, and lemon butter.
FOOD AND WINE MATCHING
Beach Road Fiano works with a range of foods, its texture and complexity work well with big flavours, such as figs and prosciutto, roast chicken, slowcooked anything, or rich seafood dishes. I highly recommend trying with a simple perfect nectarine, or even baked goats cheese