Cathy Howard
Frankland River
Shiraz and Riesling
I was born in Hobart, and grew up in a small seaside town south of the City. My journey to a career as a winemaker started slowly. I worked for a number of years as a Technical Officer with the Department of Agriculture in Hobart and thoroughly enjoyed the mix of laboratory and farm based project work that this type of work provided. My interest in wine was ignited after a tour around Roseworthy Agricultural College in 1986.
I studied oenology at Roseworthy Agricultural College in SA in the late 1980's, graduating in 1991 with my first vintage experience being at Plantagenet Wines in 1990. Following my second vintage at Pipers Brook Vineyard in 1991, I then worked for a number of years at the iconic Cascade Brewery in Hobart as Cidermaker, Lab Manager and then Brewer.
I recommenced my winemaking career in 1995, upon moving to the Barossa Valley in SA. I worked for a few years for Pernod Ricard, at their Rowland Flat winery then moved into a winemaking role with St Hallett Wines in late 1996, where I stayed and worked as Senior Winemaker until moving to WA in 2002 after meeting Neil at a Wine Industry Technical Conference. I have worked as senior winemaker for a number of wineries in Margaret River, including Watershed Premium Wines, Evans and Tate
I have continued to be actively involved in the wine industry for the past 25 years, as a winemaker of course but also setting aside some spare time to give back to the industry which has been a source of inspiration to me by being a member on several Wine Industry Committees in SA and in WA, and I'm currently a member on the newly formed APC Wine Producers Committee. I have also been working as a winemaking consultant for the past 9 years providing consulting services to a number of smaller wine producers in the SW, as well as for a South Australian Company sourcing fruit out of Margaret River and Geographe wine regions.
My husband, Neil and I own and operate Whicher Ridge Wines an artisan winery and vineyard at our farming property, south of Busselton in the SW of WA. We purchased our property in 2003, planted our 5 hectare in 2004 and 2005, launched our brand Whicher Ridge in 2008, built a winery in 2009, then took the bold move to give up our winemaking and vineyard management jobs with other companies, and to devote all of our time, energy, skills and experience into our business and into our wine brand, Whicher Ridge.
Our vineyard and winery are on our farming property at Chapman Hill, nestled in a hidden valley in the Whicher Range with Margaret River to the west of us, and Busselton to the north. Our vineyard is on the same latitude as Juniper Estate and Vasse Felix, and is at an elevation of 170 metres above sea level. The gravelly ironstone hillside plantings, and the cool winds at night coming off the Southern Ocean during summer, give rise to wines of intensity and finesse. We grow sauvignon blanc, viognier and cabernet sauvignon on our vineyard here, and we source grapes for our riesling and shiraz from two vineyards in Frankland River, and our chardonnay from a vineyard in Margaret River.
In recent years, my depth of knowledge about vineyard management has increased through working with my husband in our own vineyard. I have been hands on with him in the preparation, planting, training and pruning of our vines, and I have also enhanced my knowledge along the way of the control of pests and diseases.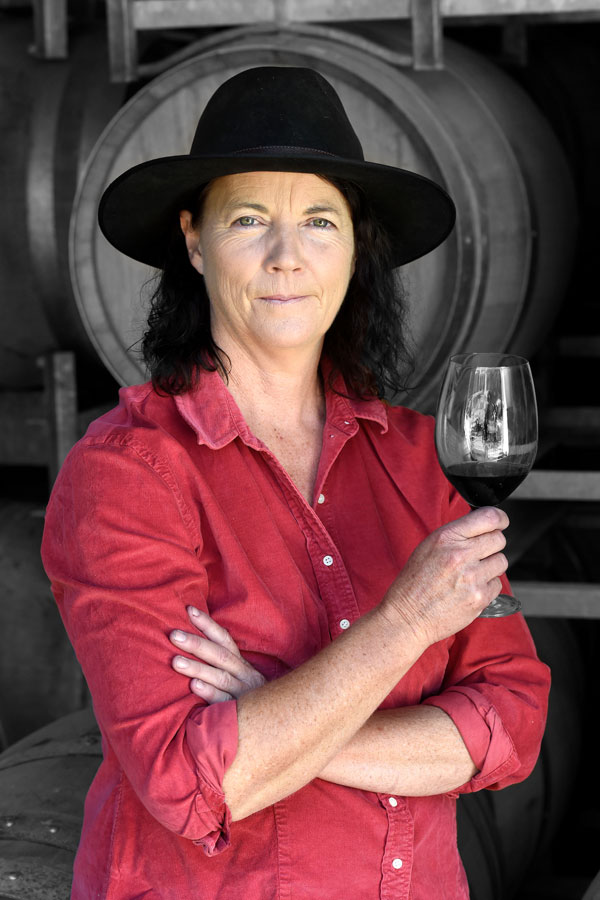 Our Whicher Ridge label is inspired by a photo taken by Neil of our vineyard, one early misty morning. The large marri (red gum) stands proudly in the top corner of our cabernet block. The lightning bolt on the label and on our logo is about our ESP, our Energy, Strength and Power. The lightning bolt striking the ridge is symbolic of our energy that has gone into developing and nurturing our vineyard, and into producing grapes of the very highest quality for our wines. The strength and power of the lightning bolt also represents our unique partnership of an experienced viticulturalist and a highly skilled winemaker, working together to produce a range of special regional wines.
In the winery, we use hands on, traditional winemaking techniques. Our sauvignon blanc is a departure in style from what has become the norm in Australia and New Zealand. It is partial barrel fermented and aged on lees for 12 months with regular bâttonage. Our chardonnay is barrel fermented and also aged on lees for 12 months with regular bâttonage. Our Riesling is a lovely crisp, dry style. Our reds are worked in small open fermenters and basket pressed before going to oak for 2 years. Fining and filtration is kept to a minimum and only the finest oak is used.
We currently produce 1000 to 1500 cases under the Whicher Ridge label and our new second label, The Jetty. The hard work is slowly but surely starting to show it's benefits. In 2015 we received a 5 Star Winery rating from James Halliday and also was chosen as 1 of 10 Dark Horse Wineries in the same year. 2016 we received our second 5 Star rating. We have also received 2 awards from the Gourmet Traveller Wine Magazine for Best Small Cellar Door in our region, Geographe in 2015 and in 2017. James Halliday recently wrote a story about us in the Weekend Australian Weekend Australian - Whicher Ridge
---
2013 Frankland River Shiraz
---

As the Frankland River sub-region is quite a distance from the south coast of Western Australia, the inland climatic conditions of warm days and cool nights provides ideal conditions for shiraz to be grown The lean, gravelly granitic loam soils and undulating terrain, delivers shiraz that is quite distinctive to Frankland River with a mix of white pepper along with riper blueberry and blackberry flavours, and in warmer years more cherry plum flavours.
The way we handle our shiraz ferments is very labour intensive, but the end results in terms of colour and flavour extraction is well worth the hard work. We ferment our shiraz in open topped fermenters, with alternating hand plunging, followed by draining off skins into a tank, then returning onto skins with lots of splashing and aeration, happening 2 to 3 times a day. Once a day during the active part of ferment, after draining off skins, a small portion of the shiraz ferment is also returned into two new French or American barrels to ferment, with the balance being returned back onto the skins in the fermenters. The wine completed fermentation through to dryness on skins in both the open topped fermenters, as well as in the barrels. Following fermentation, the wines were pressed off skins using a basket press. (More shovelling!)
TASTING NOTE
We mature our shiraz for 2 years in a mix of a new, one, two and three year old mainly french and some american oak barrels (About 8%). Roughly an equal proportion of each barrel age, and about 8 to 10% is american oak. I use American oak barrels, as when they are carefully selected, they do lift and accentuate the spicy, peppery aromas and flavours in shiraz.
James Halliday, Weekend Australian, February 2017, 95 pts:"Medium bodied, with deceptive power, length and fragrance. Distinctly savoury, but intense blue and black fruits emerge on the finish and aftertaste. Complex techniques include draining some actively fermenting juice into new oak, the remainder into tank"
ANALYSIS
Food Affinities: Tomato, squash, cumin, sage, white beans, cloves, saffron, black olives, fennel, pepper, juniper berries, anise, nutmeg, cinnamon, chocolate, radicchio, thai mint, basil.
Alcohol: 14%
pH: 3.52
Total Acid g/L: 6.58
Residual Sugar g/L: 0.10
---
2013 Frankland River Riesling
---

We have sourced the grapes for this wine from an older vineyard in the heart of the Frankland River region, in an area between the towns of Frankland and Rocky Gully. The cool to mild inland climate of this region, provides ideal conditions for great riesling to be grown. The lean granite based sandy loam soils produce rieslings with a distinctive chalky, mineral character, with aromatic lime and hints of lavender.
The grapes were picked and pressed shortly after harvest at the Frankland Estate winery. A small percentage of light pressings were added into the free run tank at pressing, to provide texture and structure, and to balance the acidity in the final wine. The chilled roughly racked juice was transported back to our winery at Chapman Hill, a journey of around 4 ½ hours. The juice was fermented at cooler temperatures of around 13-14oC through to dryness.
Once dry, the wine was sulphured and settled for a couple of months before being racked along with some light fluffy solids across into another tank. The riesling remained in tank until bottling later that in the year. No fining was required prior to bottling.
TASTING NOTE
The 2013 Riesling is a wine of great intensity and elegance. Aromas of lime, grapefruit, and freshly cut pear, are mixed with powerful lingering flavours of lime rind and sweet lemon on the palate. Chalky, mineral flavours run through the palate, balanced by a crisp acidity and a fine elegant tannin structure.
James Halliday, 2016 Wine Companion, 94 pts:"Pale straw-green; you can sense the minerality of the palate on the lime and pear bouquet, and indeed all three components come through with conviction on the palate – yet without losing finesse."
ANALYSIS
Food Affinities: Lemon thyme, caraway, fennel, persimmon, lime, lemon, snow peas, carrots, rhubarb, chives, garlic chives, Italian parsley, lavender, salsify, lemon sorrel, marjoram.
Alcohol: 12%
pH: 3.01
Total Acid g/L: 7.4
Residual Sugar g/L: 1.2
Buy Whicher Ridge Riesling