Corrina Wright
McLaren Vale
Shiraz
Corrina, with cousin Brioni Oliver, is the leading voice of the Oliver family's sixth generation and the impetus behind their own wine label – Oliver's Taranga.
After growing up among the family vineyards and enrolling in a Bachelor of Agricultural Science (Oenology) in 1994 it was only fitting that she convince her Grandfather and Uncles to let her have some fruit from the vineyard. Working alongside legendary local Chapel Hill winemaker, Pam Dunsford – she created a small scale Shiraz. The Oliver's Taranga Vineyards label was born.
In 1997, Corrina was granted a Scholarship from Southcorp Wines and Adelaide University to study at the University of California, Davis, a university world renowned for its Viticulture and Oenology program. After a year completing her Oenology studies at Davis, Corrina worked for six months at Gallo Sonoma in the Dry Creek Valley of Sonoma, California. She then returned to Australia to work for Southcorp Wines on their Winemaking Graduate Program. Corrina spent vintage 2000 working at Penfolds Nuriootpa site, moving to Lindeman's Karadoc in July 2000.
While working at Southcorp, Corrina continued to make Oliver's Taranga wines at local wineries. In 2004 she returned home to roost full time, allowing Oliver's Taranga to take the next step and open a cellar door in one of the original buildings at 246 Seaview Road, McLaren Vale.
Along the path of her winemaking career she has collected a display case full of awards that would make even the most celebrated winemaker blush. She graduated from the prestigious Len Evans Tutorial in 2005, and continues to judge and chair at numerous wine shows around Australia. Her commitment to the wine industry in Australia was rewarded with a position on the inaugural 'Future Leaders – Succession for the Australian Wine Industry' program in 2006.
Passionate about her home, her vocation and local community she has also served on the boards of the McLaren Vale Grape, Wine & Tourism Association, the Australian Society of Viticulture & Oenology and Family Business Australia. She currently represents small winemakers on the board of the Winemakers Federation of Australia and is part of the Australian Women in Wine Awards organizing committee.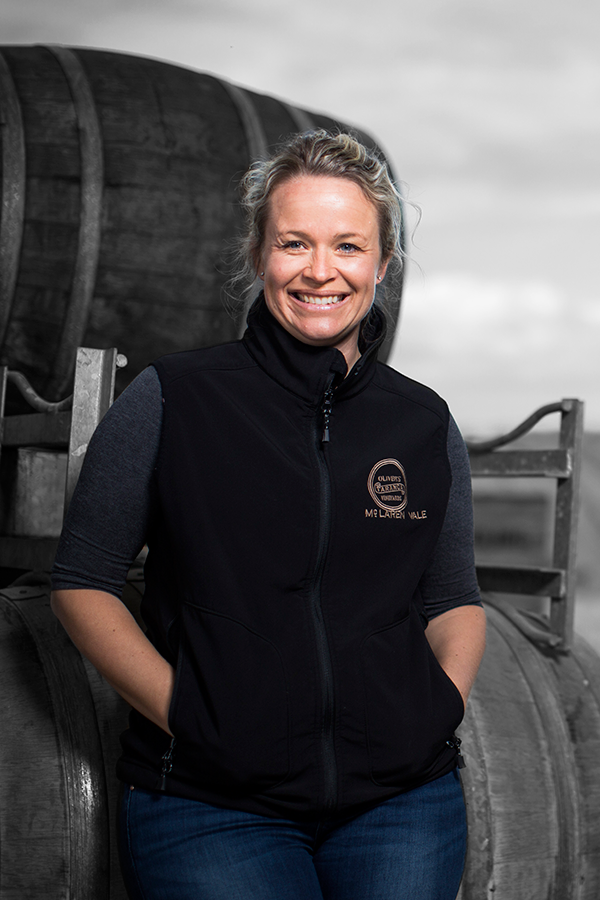 ---
Oliver's Taranga 2016 McLaren Vale Fiano
---

REGION
100% McLaren Vale, Taranga Vineyard
ANALYSIS
Alcohol 12.5%
Colour:Pale Straw
Variety: 100% Fiano
Vintage No: 14/175
HISTORY
With 100 ha of premium grapevines on the Taranga property, the Oliver family has over 50 blocks representing different grape varieties, clones, soil types & vine ages.
WINE & VINTAGE
Fiano is relatively new variety to Australia, and originates from the Campania region of Italy. Fiano is super heat and drought tolerant, being able to maintain acidity in the grapes even in our hot South Australian summers. Our 2016 vintage had a very dry and warm lead up, but a lovely rain in early February and the following cool spell allowed the grapes to ripen perfectly. This minimal intervention Fiano is made with indigenous yeast, has no added acid and is made without the use of oak.
AROMA
Cloudy apple cider with ginger and nutty notes on the nose, lively grapefruit and lemon edge.
PALATE
Lemony zest, cashew nut and delicate honeysuckle florals. Great finish with a fresh beery character, nutty texture and grapefruit crunchy tannin to finish.
THE YEAR THAT CONTINUED...
Fifth generation Don Oliver was very excited to install a new generation picking head into our UR Machine Harvester in 2016. As a result of the new, improved system, we were able to pick approx 1km/ hr faster than in previous years, without any loss in picking quality. I think he was most excited as it meant he could be tucked up in bed after a big nights pick a little earlier than usual! We use a mixture of machine and hand picking on our vineyard each year in order to get the crops into the winery at the perfect time.
Buy Oliver's Taranga Fiano
---
Oliver's Taranga 2015 McLaren Vale Shiraz
---

REGION
100% McLaren Vale, Taranga Vineyard
ANALYSIS
Alcohol 14.5%
Colour:Deep maroon
Variety: 100% Shiraz
Cellaring: Drink now to 10 years.
HISTORY
Made exclusively from our Taranga vineyard, the 2015 Shiraz shows all of the delicious flavours that you have come to know and love. The 2015 vintage was one of the earliest and fasted on record. This resulted in exceptional intensity of flavour with very small crops. Made from vines aged 7 to 70 years old, our Taranga Shiraz always delivers.
VINTAGE
The Year That..... vintage finished before summer did
Over the 174 years plus that we have been growing grapes on the Taranga property, we haven't seen a earlier finish to vintage ever. Well, not it living memory anyway. Usually we will harvest in February & March- but in 2015, we finished on the last day of February. Unheard of !! We had very low crops and a warm year, so everything was ripe super early.
AROMA
Chocolate, Mocha and coffee grounds. Big fruited, fresh figs and rain on hot concrete.
PALATE
Bring out the slow cooked beef ragu, fresh crusty bread and pour yourself a glass or two! The mocha continues on the palate with great tannin, freshness and lightness. Solid McLaren Vale Shiraz.
Buy Oliver's Taranga Shiraz