Liz Barnes
Beechworth, N.E. Victoria
Shiraz
All wines are made at Star Lane Winery vineyard by hand with what can only honestly be described as a true passion, dedication, expertise, and a heartfelt love of the entire process. Our proudest moment and greatest satisfaction is to share with you as family, handcrafted wine at its absolute best.
Liz Barnes is the winemaker, but as anyone who understands anything about the process of producing the very highest quality wines will know, it takes a team of dedicated people applying maximum care and expertise right throughout the vintage to make a truly outstanding wine.
Only the finest fruit can make the finest wine. At harvest all grapes are handpicked in the cool of the morning and great care is taken to make sure that only the very best fruit is placed into the bucket to be used for wine production.
Once the fruit has been picked it is processed immediately and the magic starts to begin. Star Lane employ only Wild Yeast Fermentation techniques allowing the fruit to utilise the natural yeast that is present on the skin of the berries. No additional yeast is added.
The wine takes usually a week or more to go through its primary fermentation process in open top fermenters. It is left on skins for a week or two after primary ferment to facilitate cold maceration. The ferments are hand plunged and pumped over both day and night at carefully managed time intervals and closely monitored to ensure precise temperature control. The fruit is then gently basket pressed to extract the final juice from the berries and skins.
After this, the wine is put into tank to settle overnight and then it is put into barrel to undergo its secondary fermentation process which includes natural malolactic fermentation. Importantly, this process is not hurried and is allowed to take place innately via a long and slow motion through winter, into spring, and then completed by early summer before the heat begins.
The Sirugue and Bossuet oak barrels used are 100% French with 40% to 50% new oak included in the mix of barrels each year. Kept in these barrels for almost 2 years the wines are made to be complex with elegance and finesse and to remain true to varietal character. They are distinct and embody a reflection of the famous Beechworth region in which they are grown.
Every bottle of our wine represents the almost countless hours of expert work and care that has been tendered into making a truly boutique product.
Star Lane Wines are genuinely hand crafted with little chemical or additive intervention occurring during the making. The handcrafted process of making the wine allows the fruit to show its true colours and to shine through as a proud reflection of exactly what it is that Star Lane Wines are all about.
1. Estate Grown
2. Hand Picked Fruit
3. Basket Pressed
4. Wild yeast Fermented
5. Hand Crafted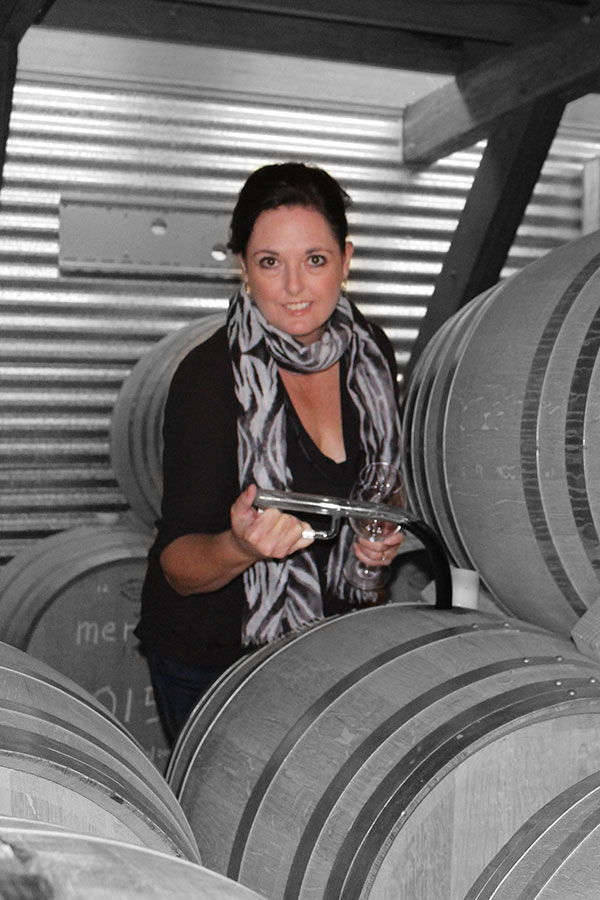 ---
Star Lane 2012 Elements Red Gum Barrel Fermented Shiraz
---


Uniquely aged in an Australian Red Gum Timber Barrel, this luxurious Six Elements Shiraz has been meticulously created to deliver a superb harmonising of everything that has ever been learned about the hand crafting of fine wine with the critically important balancing of the sheer innovation and expertise necessary to produce such an exceptional offering.
"As necessity is the mother of invention, innovation is the matriarch of tradition"
Aptly dubbed "The Taste of Australia" this is a superb wine that stands to redefine the expectations and appreciation of even the most discerning consumer as to what it is that fine handcrafted boutique wine is all about.
Contrary to its reputation as a hardwood, red gum actually has a breathability superior to that of traditional oak. This is but one of the numerous advantageous attributes associated with completing the secondary fermentation process in a barrel made of salvaged Australian Red Gum Timber. The higher porosity and increased breathability allow more oxygen to be drawn which in turn enhances the intensity of the relationship between the wine and the barrel. The desirable impact of this is to deliver a wine that tastes far fuller and more mature than its actual vintage. This is due to the secondary characteristics of the wine being exponentially enhanced, which in turn means shorter cellaring times to deliver optimum drinkability. No attention to detail has been overlooked; a scenario that is further reflected by the innovative inclusion of Export Quality Australian Merino Wool as a premium packaging material. .
Star Lane Winery offers one of the most beautiful and picturesque Cellar Door wine tasting experiences in Australia so it is not difficult to see where such inspiration is born. Ringed with beautiful Australian Red Gum trees the Terroir or "sense of place" has now become a tangible feature of Star Lanes flagship product. With the Red Gum barrel effectively bringing the tree directly to the wine the Terroir and undeviating tenure between the two elements is achieved. The Taste of Australia has been hewn from the very landscape in which the vine has driven its roots.
TASTING NOTE
In keeping with the exceptional high quality and standards that are now synonymous with Star Lane Winery the Six Elements Red Gum Barrel Fermented Shiraz captures the true essence of Star Lanes traditional premium quality with the addition of many distinctive and highly desirable characteristics.
A deep generous and balanced wine. A rich and powerful palate with a red gum hue and excellent colour. The bouquet has fragrant spice and pepper insinuations combined with the most beautiful forest floor and wooden overtones; earthy truffle, fruitcake, and liquorice with just a slight hint of eucalypt and fine tight tannins. Timbered nuances throughout with a smooth grain. Slightly wild, contemporary with a unique Australian personality.
Buy Star Lane Elements Shiraz
---
Star Lane 2014 Shiraz
---

TASTING NOTE
This Shiraz is deep, generous and well balanced. It has a smooth, supple but rich and powerful palate. It has shy blackberry and blackcurrant aromas with a whiff of liquorice and a very long savoury palate. It has a seasoning of classy French oak that is perfectly balanced with fruit that is well able to handle it..
REGION
Beechworth, N.E. Victoria