Marnie Roberts
Clare Valley
Dad's side of the family have always worked off the land. He started by working on my pop's property in Trentham Cliffs growing apples, oranges, mandarins and lemons. We grew up in the Mildura area - on the NSW side.
When he purchased his own block, he changed the land from citrus and dried fruit to growing wine grapes (Chardonnay, Shiraz, Cabernet Sauvignon). I grew up not having any real interest in any of this. Instead, I wanted to travel, maybe join the police force or be a rock star. Police seemed too hard and as it turns out, my skill level on guitar, drums and singing is average...
I took my first vintage job as a lab chick at Buronga Hill. This was purely to earn enough money to travel. My first overseas trip was to the beautiful Sonoma Valley to work a harvest at Bueno Vista. This was the trip: it made me think this wine gig is maybe pretty cool.
So for a few years, I did a vintage back home for half the year, saved up and traveled for the other half.
I then applied for jobs out of Mildura and landed a role at Haselgrove winery, after a couple of vintages there, I was offered a job at Milburn Park in Mildura. I worked my way up from Lab Tech to Assistant Winemaker, then applied to study winemaking at Charles Sturt Uni in Wagga.
After 6 years, I was offered a job at Kirrihill Wines in Clare Valley. Little did I know then that this was the start of my love affair with the Valley and all it has to offer.
I have always had an interest in alternative wine varieties; this grew with the access to the range of varieties that was made at Kirrihill. I strongly believe that the Clare Valley has the perfect climate and soil to successfully grow even more Mediterranean varieties that the consumer can enjoy. Combine this love of Clare, with my love of innovative wines and style, thrown together with my love of my family and you get Matriarch and Rogue.
Matriarch & Rogue is named for my grandmother and her four sisters – and the rogues they married. Family is important, and enjoying the wines with the people who inspired them has been one of my great joys since starting this little brand. The varieties are matched to the personalities of the family members, and all are made in approachable, food-friendly styles. Matriarch and Rogue is about family – and now shared with my family and friends in the Clare, in Mildura, in Adelaide, and wherever we go. Oscar might be only two years old, but even he has a fortified wine made in his name and stashed away.
It is purely about the best fruit, with as little done to it as possible. As much as Matriarch & Rogue is an expression of family, it is an expression of the vineyard sites, and the care taken with them. A little bit unconventional, much like our family.
Marnie now juggles her time between her main gig as the chief winemaker for Claymore Wines, working on the Matriarch & Rogue wines, and chasing Oscar around the yard. Somewhere in there she also paints, and belts out a handy tune on the banjo.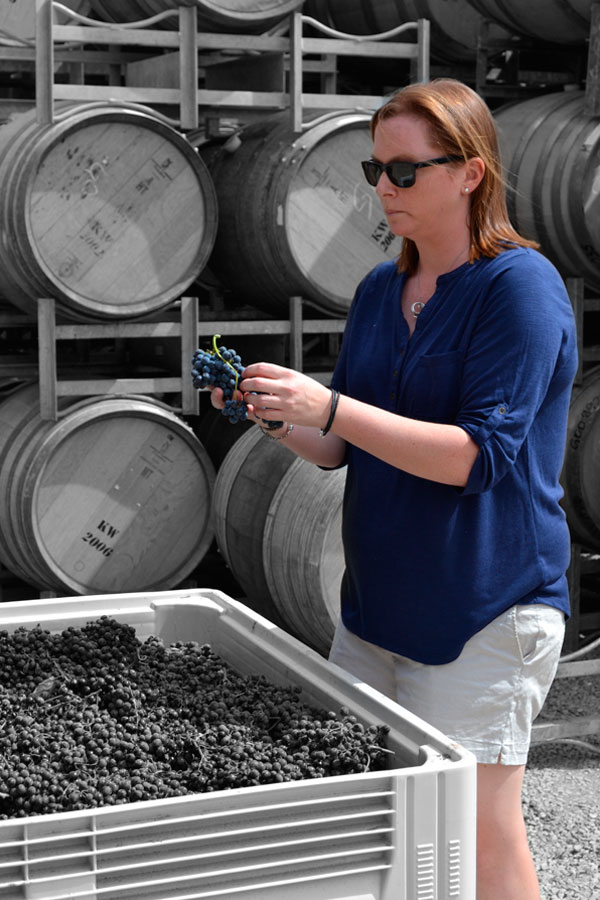 ---
2016 Ken Clare Valley Sangiovese Rosé
---

VINEYARD
Located approximately 10km north of Auburn, which is at the southern base of the valley. This region is slightly warmer and has a similar climate to the Mediterranean (warm days and cool nights). Planted on terra rossa soils, with east west row orientation, this vineyard is perfectly located to grow Sangiovese.
PROCESSING
Fruit was selected and harvested on the 8th of March 2016 and stored in cool rooms for 48 hours. It was then taken to the winery, crushed and pressed. No acid was added to either parcel and only the pressings had slight fining. Juice was then fermented until the desired balance of natural sugar:flavour:acid was achieved where the ferment was stopped instantly. The wine was then allowed to settle naturally over a month, racked once and allowed to settle on light lees until ready for blending and bottling. Both parcels were blended together, filtered and sent to bottling. Minimal fuss, maximum flavour extraction.
ANALYSIS
Alcohol: 12.75
PH: 3.14
total Acidity: 6.0 g/L
Residual Sugar: 7.5 g/L
TASTING NOTE
Fruit was harvested at a perfect flavour balance especially for Rosé. Sangiovese has an amazing ability to retain acid with juicy tannins and a hint of spice at a lower baumé. Fruit was picked and held in a refrigerated cool room prior to crushing, bringing out a slight confectionary character and helping to enhance and stabilize the gorgeous colour. Slow, cool ferment helped to enhance the flavours of Turkish delight and red berries. The balance of natural sugar and acid give a clean and balanced palate that surrounds the gentle Sangiovese spice. This amazing and versatile variety shines as our Rosé.
Buy Matriarch And Rogue 2016 Sangiovese Rose