Dean Hewitson
Barossa Valley
Chardonnay
Hewitson was founded in 1998 as a result of winemaker Dean Hewitson's driving passion to produce world-class wine from
the historic, dry-grown vineyards of South Australia's very best regions including the Barossa Valley, McLaren Vale and the Adelaide Hills.
Beginning his career at a young age Dean completed his winemaking degree at Australia's world-famous Roseworthy Agricultural College in 1986. This was then followed by working for a decade at Petaluma, one of Australia's leading wineries. During this time Dean worked three vintages in France, visiting its many diverse regions including Bordeaux, Burgundy, Champagne, Beaujolais, The Rhone and Provence. Here he gained considerable knowledge in Old-World winemaking techniques and learnt the value of great vineyards. Dean then travelled to California to study at the renowned UC Davis, completing his Masters in Winemaking in two years. He toured the West Coast of the United States, visiting and working in regions such as Santa Barbara, Napa Valley, Oregon and Washington State.
On returning home to Australia, Dean conceived the core values for future Hewitson wines. He was adamant his wines would combine Old-World winemaking methods and traditions with New-World technical knowhow and fruit purity. The traditional grape growing regions in South Australia surrounding the city of Adelaide, namely the Barossa Valley, McLaren Vale and the Adelaide Hills, are home to some of Australia's and indeed the world's oldest and most treasured vineyards, many of them planted pre-phylloxera and more closely linked to the original clones from Europe than anywhere else in the world. These regions would provide Hewitson with the highest quality grapes: Barossa Valley and McLaren Vale the dry-grown varieties such as Grenache, Shiraz and Mourvèdre; and the cooler climates of Eden Valley and Adelaide Hills providing the best examples of Riesling and Sauvignon Blanc in Australia respectively.
Hewitson's portfolio has steadily expanded from small beginnings. It has also become something of a family affair with Dean's wife and three children giving inspiration for his labels LuLu Sauvignon Blanc, Ned & Henry's Shiraz and Miss Harry Grenache Shiraz Mourvèdre. The Mad Hatter Shiraz derives its name from an old nickname for Dean.
Hewitson is considered in the top echelon of the wine world.
The wines of Hewitson are praised for their flavour, balance and complexity, while the sheer quality and character of the wines demand they are stocked world-wide in personal cellars, the finest hotels and finest restaurants. It naturally follows that these wines receive rave reviews from the best wine writers and critics globally. With an exciting future ahead Dean's passion ensures Hewitson wines will always be crafted to reflect his individual winemaking philosophy and the outstanding quality of grapes from the dry grown and ancient vineyards of South Australia.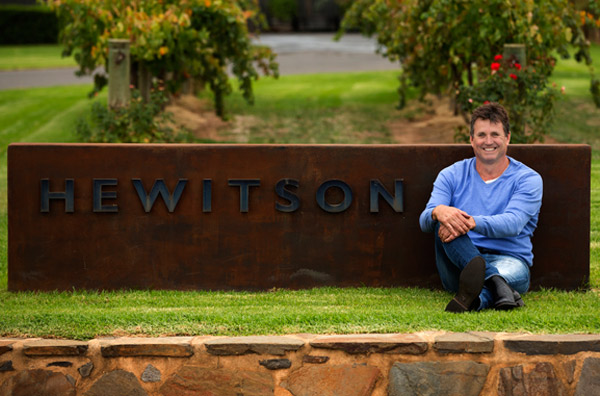 ---
HEWITSON PRIVATE CELLAR
2008 Chardonnay
---

TASTING NOTE
2008 PRIVATE CELLAR PMVG-08 CHARDONNAY was made from the grapes grown on our Dorrien Bank vineyard from the last vintage before we grafted these over to The Mother Vine Shiraz. PMVG-08 stands for Pre Mother Vine Grafting in 2008.
Of course, given the fact I spent ten years at Petaluma thoroughly enveloped in making Petaluma Chardonnay, and also the fact that Lou and I in our dating years spent almost two of those tasting and drinking the finest California Chardonnays, I felt making a Chardonnay from this vineyard with line and tautness would be a challenge I would like to take on.
Picked with acidity in mind the wine finished fermentation in French barriques and partial malo-lactic fermentation occurred. The wine spent approximately 12 months in barrel then bottled and left to mature in cool cellars until this release. Private Cellar is so named because as with all Private Cellar releases I am happy to have the lot in my own cellar. However, as always, the wine is so good it's worth sharing!
Buy Hewitson Private Cellar 2008 chardonnay
---
2014 MISS HARRY RHONE BLEND
---

OVERVIEW
Miss Harry is the nickname of Harriet Hewitson, the daughter of winemaker Dean Hewitson. Harriet was born coinciding with the first vintage. The 2014 vintage is a blend of Grenache, Shiraz, Mourvèdre, Carignan and Cinsault. These varieties are historically grown in the southern Rhone Valley of France near the Mediterranean, and are blended together to make the local wine. These varieties also have a natural affinity for the Barossa Valley.
VINTAGE: 2014
VARIETY: 48% Grenache, 18% Shiraz, 15% Mourvèdre, 10% Carignan, 9% Cinsault.
VINEYARD REGION: Barossa Valley
MATURATION: 12 months seasoned French oak barriques.
SOIL: Ranging from ancient oxidised ferrous soil, limestone and sand to gravel.
VINE AGE: Ranging from younger selections massale of century old vineyards to 140 year old vines.
COLOUR: Bright red with a medium purple hue.
NOSE: The aroma is of cherries, strawberries, spice and Provencale herbs.
ALCOHOL: 14%
pH: 3.52
ACIDITY 5.2g/L
PALATE:
The palate is wonderfully fresh with juicy forest fruits, dried herbs and a creamy complexity derived from its maturation on yeast lees in old French oak barrels. The concentrated fruits, fine tannin and perfectly integrated acid complete the wine.
Buy Miss Harry Rhone Blend
Buy Hewitson Christmas Offer