Simon Gilbert
Orange
Chardonnay
Simon Gilbert is a 5th generation winemaker, whose great-great grandfather Joseph Gilbert was the master behind the first planted vines at Pewsey Vale, Eden Valley, SA in 1842. Pewsey Vale continues to produce grapes, on an adjacent property which is part of the original estate.

From the age of 11, Simon knew that he wanted to become a winemaker and since graduating in Oenology in 1977 has been making wine ever since. Simon has enjoyed respected and admired positions at Lindemans and Arrowfield in the Hunter Valley, having longevity and great success with both companies. Simon also spent time plying his trade at Rouge Homme, Robertson of Clare and Brangayne of Orange. Not a bad CV. His ambition then led him to establish 'Simon Gilbert Wines', of which he was Winemaker, until the company went public in 2004.

Simon then established 'The Gilbert Family Wine Company' trading as 'Wineworks of Australia' in 2004, having identified the need in Australia for Wine Consultancy, Wine Brokering and Wine Export. Simon's considerate, artistic and elegant Winemaking style has seen his clients received over 60 trophies and 1,500 medals since 1984.

Simon has long nurtured the dream to establish a boutique family wine label that will experience the same success and longevity as his own career. The promise for this is highly accentuated by the fact that Simon's 26 year old son William Gilbert, is now working in the family business as winemaker, providing the Gilbert Family with its 6th generation of talented winemakers.

In 2010 Simon then established 'Gilbert by Simon Gilbert' a premium family boutique wine label that encapsulates the Gilbert family history and wise wine-making with fresh appeal. 'Gilbert by Simon Gilbert' has been crafted by a passionate and truly talented winemaker, cultivating a love of wine and spirit of excellence in every bottle.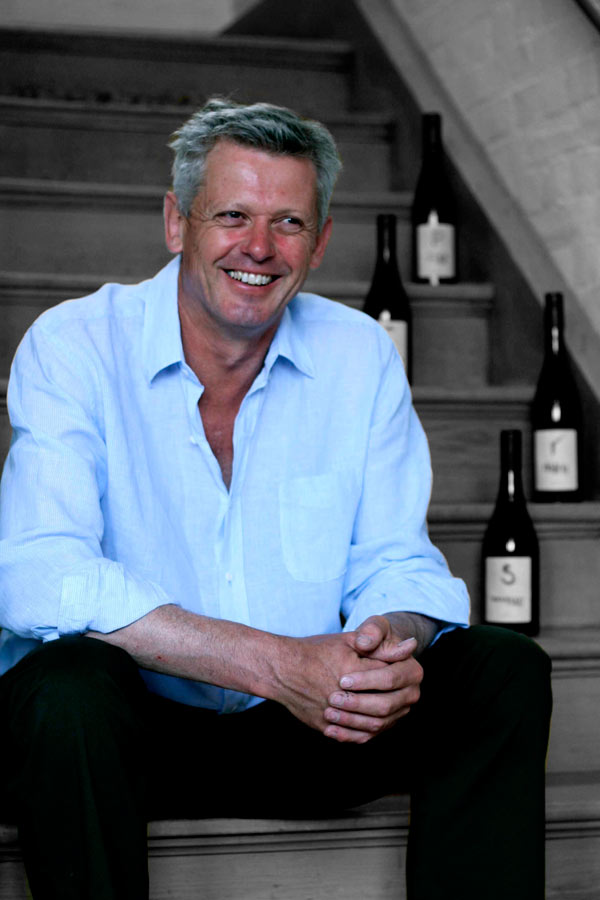 ---
Gilbert by Simon Gilbert
2012 Chardonnay
---

TASTING NOTES
Beautifully golden in colour, this wine displays aromas of fresh melon with white peach and crunchy pear flavours framed by subtle French oak. A polished and complex mid palate with a long finish. Ageing gracefully, drink now or for many years to come.
SOURCE
Orange, Vin de Vie Vineyard, (88%) Mayfield (7%) and Borrodell-Sisters (5%). Sourced from the foothills of Mt Canoolas, Orange at an altitude of 880 meters above sea level, these vineyards have extremely fertile soil, rich in volcanic ash. It is deep well drained clay loam, and red and brown ferrosol soils derived from basalt, with silty textures being found at hill top sites. One of NSW's cooler regions, Orange has a mean January temperature of 19.5°C with a 15°C variance between summer and winter months, an average rainfall of approximately 875mm per annum. With Orange being the highest wine growing region in Australia, grapes grown here not only enjoy all the benefits of its cooler temperatures, and unique typography, but also benefit from over 9hrs per day of direct sunshine during the growing season. The combination of both the cooler climate and plentiful sunshine, is vital to the fruits ability to develop intense aroma and maintain flavour, giving these grapes a long mouth feel and flavour profile.
WINEMAKERS NOTES
handpicked, fruit selected and hand sorted at harvest, these grapes were harvest in small lots in the early morning, to take advantage of the cool morning temperatures. This was especially important, due to this vintage being much warmer and dryer then average. The resulting grapes were more concentrated, rich and intense in flavour. At harvest, the grapes were placed in ½ - 1 tonne bins only, to enable better quality control and detect any fruit variation.
To avoid any skin maceration, fruit was destemmed only, and must chilled 10°C. The must then drained and soft pressed only with each incremental increase in pressure. Following this, the juice is cold settled and racked, then warmed to 15-16°C and inoculated with selected yeast cultures. Fermented and matured in a combination of 1,2 & 3 year French oak (François Feres/Demptos/Truille) for 9 months. During this time, partial malolactic fermentation took place. The wine was left on light less and was stirred weekly for 3 months, and slowed to monthly thereafter, before bottling in November 2011. The overall emphasis is to maintain balance between the characteristics of the fruit and the oak, in order to best express the elegance and finesse of this varietal
ANALYSIS
Alc: 13.2%
pH: 3.26
TA: 6.6g/L
Rs: 1.7g/L
Yeast Type: QA23 and D47
Cellaring: Enjoy now – 2020
FOOD
Seared Lobster, Wild Mushroom Ravioli
Buy Chardonnay By Simon Gilbert