28 August 2016 | John Quinn
Gift of the Grape - MAXIM Magazine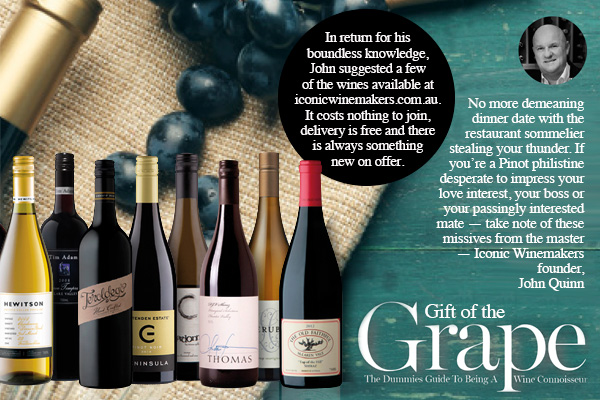 There's a new wine website that's welcome news to both the wine savvy and those who aspire to be so. It's informative, educative and approachable, but certainly not prohibitive considering it features some of Australia's best credentialed winemakers. It's www.iconicwinemakers.com.au and its founder, John Quinn, defines an iconic winemaker as one who has learnt their trade building some of our largest corporate wine brands, often lending their talent to famous old world wine regions in France, Italy and Germany, and now make their own wine under their own label. A 30-year career wine expert, John has trodden the long and lonely road from clueless to connoisseur, and he wants to fast track you...
CHARDONNAY
JOHN SAYS: "My favourite white wine is a chardonnay. So what drives me to this iconic variety? Give me five different winemakers from five different regions and I'll show you five completely different wines. As a white wine that does see regular use of oak I have a simple guideline. If the region is a warmer climate, the grapes will be picked earlier during vintage hence won't handle too much oak maturation. The cooler the climate, the longer the grape stays on the vine, the fuller the flavour, and the ability to handle more oak contact. Check out Simon Gilbert's version and enjoy the pear juice characters on the finish… sublime."
BEST WITH: TO COMPARTMENTALISE CHARDONNAY TO A SPECIFIC FOOD IS TO ASK A VICTORIAN WHEN HE SHOULD WATCH THE AFL…. ANY TIME IS A GOOD TIME... JUST RELAX AND ENJOY.
SEMILLON
JOHN SAYS: "Like we talk Terroir in the wine industry we also have it in our food and Australia's climate and natural resources lend us to producing world class seafood. Our seafood contains the good natural oils so to offset that our instinct is to squeeze a wedge of lemon or lime over our meal. Think of Semillon as your wedge in a bottle, particularly those from the Hunter. As an International show judge once told me, The Hunter should only produce Semillon and Semillon should only come from the Hunter. The Shiraz producers were horrified but anyho. Andrew Margan's 2014 limited release is a perfect example of this style of wine, lemon, lime full of freshness."
BEST WITH: EARLY PICKED DURING VINTAGE THEY HAVE WONDERFUL FRESH CITRUS CHARACTERS
SAUVIGNON BLANC
JOHN SAYS: "Our ANZAC brothers really drove what has become a white wine phenomenon but don't discount our local winemakers. The Kiwi style is a little lighter with more mineral characters but in Australia I like to look for styles that have more depth and length. Look for wines from Tumbarumba, Adelaide Hills and Western Australia. I came across a wine from Larry Cherubino which immediately took my interest. Larry's style is more full bodied than our Kiwi cousins. Larry uses new clones that he says are more about flavour and tannins; and interestingly has used some oak maturation, not normally found in the production of Sauvignon Blanc. It's not often a winemaker talks tannins in Sauvignon Blanc but his subtle nuances are there to enjoy."
BEST WITH: BECAUSE OF ITS FULLER FLAVOUR, MATCH IT WITH FULLER FLAVOURED FOOD…TRY A GRILLED CHICKEN BREAST WITH A CREAMY SAUCE. LEAVE THE ASPARAGUS AND GOATS CHEESE TO THE KIWI TYPES.
PINOT NOIR
JOHN SAYS: "When I first started in the industry in the mid 1980's I think we were confused about how to make Pinot. We had anywhere from Wynns Coonawarra making a Burgundian style to James Halliday making what some called cordial (harsh). Winemakers will tell you it's not an easy grape to champion. Once the industry realised it wasn't all things to all regions the style started to take an identity and the best suited regions took ownership. And one of those regions was the Mornington Peninsula. And if you're thinking Mornington then no better to consult than Rollo Crittenden. Lots of cherry fruit, subtle tannin and a soft acid finish that I think defines Australian Pinot Noir."
BEST WITH: WHAT FOOD DO I MATCH WITH PINOT? IF IT WALKS LIKE A DUCK AND QUACKS LIKE A DUCK IT'S PROBABLY A DUCK. WHETHER YOU'RE LUNCHING WITH OFFICE COLLEAGUES IN THE CITY OR DINING WITH THE FAMILY AT YOUR LOCAL CHINESE ORDER THE PINOT WITH THE PEKING DUCK. YOU'LL BE THE STAR OF THE TABLE.
SANGIOVESE
JOHN SAYS: "Don't know much about the variety? Well, you're not alone. Think Mediterranean type climate and lifestyle and you probably get the idea. It's why McLaren Vale winemakers are making the stuff due to their proximity to the beach. But wow, Suzanne Little has now pioneered Sangiovese in the Hunter for 15 years and it's time to take notice. I tasted this wine recently and was immediately taken by the smoky nose and spicy savoury finish."
BEST WITH: CLOSING MY EYES I THINK OF A SUNDAY ARVO SHARING A PLOUGHMAN'S LUNCH WITH A GROUP OF FRIENDS. DO IT — YOU WON'T BE DISAPPOINTED."
SHIRAZ
JOHN SAYS: "Like Chardonnay, I'm in awe of how we produce such diverse styles of Shiraz, dependent on where the grapes and the winemaker have come from. Andrew Thomas from the Hunter only produces Semillon and Shiraz. You have to Admire someone that is that committed he gives 50% of his life to a red grape hanging off a vine. He has made this style in typical Hunter fashion — intentionally lighter bodied, more elegant, subtle earthy characters matured in older oak barrels. 'Thommo has just released his 2014 DJV Shiraz with many Hunter winemakers are rating a 10 out 10. Some say it's the best since 1965. Nick Haselgrove on the other hand comes from McLaren Vale, a Mediterranean style climate which lends to the fruit being left on the vine later during vintage. This produces fruit showing sweeter riper juice, bigger mouth feel with a bit of mocha and liquorice. Nick uses mainly new French oak. Both great wines."
BEST WITH: EAT WITH SLOWCOOKED RED MEATS. SLOW COOKING AND SHIRAZ SHOULD WALK DOWN THE AISLE.