15 July 2016 | John Quinn
Liquor retailer launches Iconic wine platform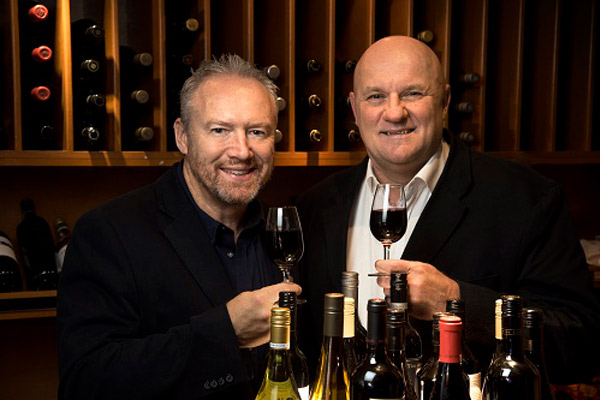 Sydney independent retailer and former Penfolds executive John Quinn (right) has partnered with Lindt Australia CEO Steve Loane (left) to launch Iconic Winemakers, a new online platform to showcase Australia's best winemakers.
By Deborah Jackson, editor National Liquor News
The new platform operates as a champion for Australian wine with its focus on high quality over price.
Founder Quinn told TheShout: "What we're about is quality and not price. Many of our competitors are about sending out a mixed case every month filled with old labels or dormant stock - but the reason that people do that is because the wine didn't sell in the first place.
"We are all about quality. Really the definition of an iconic winemaker is someone who once worked for the big corporates and is now out doing their own thing. So this is all about quality wines that aren't easy to find. Anything that we do and any of our activity, is really about talking about the winemaker and educating people about the winemaker and different wine regions etc."
Quinn continues: "If you picture the great Max Schubert, who created Grange, leaving Penfolds to start Schubert's Wines – that's an Iconic Winemaker.
"Our talent has excelled with Lindeman's, Penfolds, Hardy's, Houghton's, Orlando, Rosemount, Seppelt, Tyrrell's - the list goes on. They have typically also advised in the 'old world' wine regions of France, Italy and Germany. So career-wise they are at the top of their game."
Iconic Winemakers provides a platform for this elite group of Australian winemakers to share their own labels, along with their stories, with Australian wine consumers. The vision is that over time the site will grow to include wines created by the winemakers exclusive for Iconic Winemakers.
Referencing common discount-led online retailers led by major retailers, Quinn explained what Iconic Winemakers is not.
"Discounted wines, old label clearances or pushing mixed dozens to move dormant stock is not us. What makes Iconic Winemakers unique is that we're driven by quality, not a price point," he said.
"Our selection is not available in bottle shops or big retail chains. It is free to subscribe and there are no obligations or compulsory delivery cycles, so you don't have a mixed case turning up on your doorstep every three months and an unwanted credit card charge."
Loane sees similarities between the Iconic Winemakers premise and what made Lindt a giant in the FMCG space.
"When I came to Lindt 19 years ago, everyone was a milk chocolate person and we were told by major customers 'Australians don't want to pay that amount of money for chocolate, and dark chocolate is never going to be a main player in the market place', " he said.
We now have 15 per cent of the block market share with dark chocolate because the market has changed. Consumers are more educated and prefer just a few quality pieces of chocolate at night – less is more.
"The wine market is similar. Local consumers are more educated than ever about wine and don't buy solely on price. This changing consumer will appreciate our proposition."
Iconic Winemakers will introduce new selections regularly, with wines currently ranging from $20 to $75.