27 July 2016 | John Quinn
Winemaker - Andrew Thomas
Is this the vintage of the Century?
When I was a brand manager for Wynns Coonawarra Estate the outstanding 1990 vintage wines were coming up for release. Heralded by all, we marketers dubbed it 'The Vintage of the Century'. Then winemaker Peter Douglas was horrified at such grandstanding. Funny days. Whilst world renowned, our winemakers are pretty humble people and don't like head office going off. They prefer what's in the bottle does the talking. That's why most of them leave the corporate bullshit and go out on their own.
Which brings us to Andrew 'Thommo' Thomas and the release of his 2014 Hunter Valley Shiraz wines. Some have pondered could it be the best Hunter vintage to date; even more are convinced it will prove to be in the top 3; and most have little doubt it's at least a 9 out of 10 if not a 10 out of 10.
- John Quinn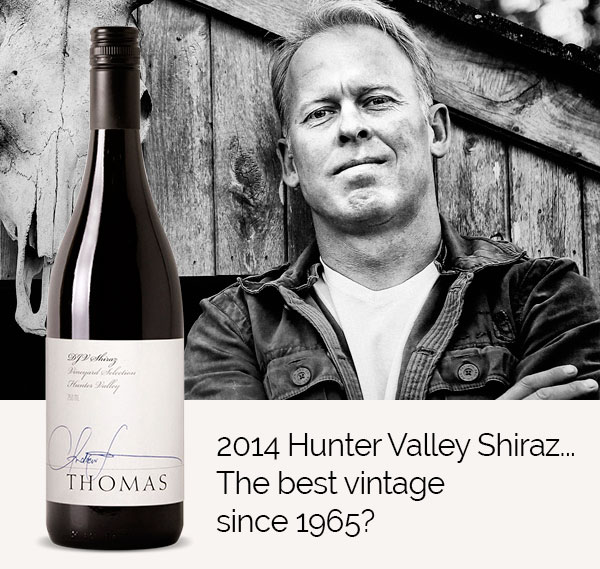 2014 Hunter Valley Shiraz the best vintage since 1965?
There's been a LOT of chatter about the outstanding quality of 2014 Hunter Valley shiraz. Some say it's the best since the legendary 1965 vintage.
Well I was only just a twinkle in my father's eye back then, but it's safe to say that 2014 is certainly a 'once or twice in a generation' kind of vintage, and this is definitely the best range of wines I have released in my 30 consecutive years of winemaking in the Hunter.
Warm without being stinking hot.
Dry without being in drought.
Picking decisions totally based on fruit maturity and not distracted by the weather...
The wines are certainly in the fuller end of the medium bodied spectrum, but there's a real 'juiciness' to the fruit and amazing silky/supple tannins giving these wines the structure for excellent early drinking appeal, as well as remarkable longevity. I would love to have seen those 65's on release......
So what about the wine you ask...?
The fruit for my Deja Vu shiraz is again sourced from the sandy loam soils of the Trevena vineyard on Hermitage Road (just over the fence from the Braemore vineyard), A quite intentionally lighter bodied tribute to traditional Hunter River Burgundy (Hunter shiraz for Pinot lovers....) and this 'pretty' red fruited style certainly punches well above its weight.
You have probably noticed some relatively hefty pricing from some Hunter producers taking advantage of unprecedented demand for this outstanding vintage. There are a lot of wines with a $100+/$150+/$200+ per bottle price tag.
I am pleased to report that I have maintained my usual pricing on all my wines.
I certainly don't mind being known as a making some of the finest quality wines in the region, as well as providing arguably the best value for money. Winemaking and vintage variation is all about light and shade, and I want my customers to buy my wines every year, not just cherry pick the outstanding vintages.....