22 September 2016 | John Quinn
The bushing king does a DEAL. Buy a 6 pack but only pay for 5 bottles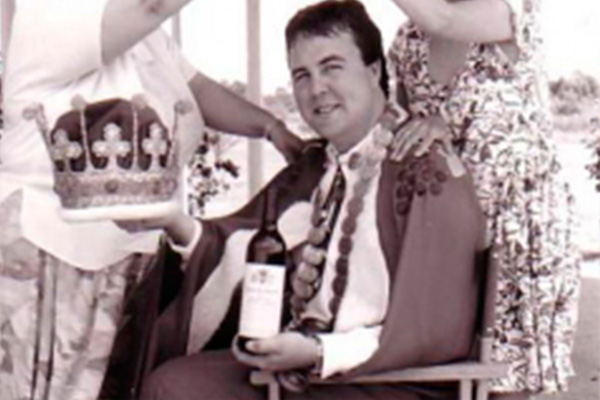 As a young marketer finding his feet in the wine industry I made the smart decision to not impose myself until I knew what I was talking about. Apart from my first boss ( Steve Wiblin, Erin Eyes) I picked out 2 winemakers over the years that I enjoyed being with and just as importantly ones from which I knew I would learn. The first was Peter Douglas from the Coonawarra who taught me wine. He didn't know it at the time but I listened to his every word. The second was Nick Haselgrove from McLaren Vale. Nick reminded so much of Pete that I was almost attracted to him….ouch.
The first time I spent real time with Nick was at the 1998 Bushing King lunch. The Bushing King is awarded to the best wine of the McLaren Vale Show of that year. If you love a lunch get yourself a ticket, absolute gold. Nick was the McLaren Vale Bushing King in 1993, top prize at the Sydney International Wine Show in 1998, and Winestate Magazine's Australian winemaker of the Year 2010. All this whilst under the strain of making his own wines as well as answering to a corporate granddaddy.
The Haselgrove family has deep roots in Australian wine production and research and has exerted considerable influence throughout the industry. Grandfather Ron Haselgrove learned winemaking under the great Emil Sobels at Leo Buring in Watervale, during the 1920s but made his name as an innovator in fortified wine and St Agnes brandy production at Angove's in Renmark. He went to Mildara Winery in 1934, bolstering its quality and reputation by steering the original Mildara Cabernet Shiraz Bin 23 in 1952, and drove the establishment of Mildara's Coonawarra cellars in 1963. He played an important role in the establishment of the Australian Wine Research Institute and served on its council for 18 years (1955-1973) with a number of years as Chairman. When he died in 1977, Ron left a legacy built on deep technical knowledge and innovation, coupled with smart business and management strengths that elevated Mildara to become one of the powerhouses in Australian wine.
His son James – Nick's father – learned his winemaking craft at Mildara, but made a greater impact after creating his own wine label in 1981, based in McLaren Vale and serving as the solid foundation on which Nick Haselgrove Wines has been built. Nick draws from the vast well of generational experience that has seen the Haselgrove family achieve great accomplishments in the wine industry, and continues the same dedication to achieve outstanding quality.
THE DEAL.
Buy a 6 pack of Nick's 'Old Faithful-Top of the Hill 2012 Shiraz and we'll only charge you for 5 bottles, that's right, buy 5 get 1 FREE. Unbelievable value. For the next 2 weeks this deal will be reflected on our site, ends 6th October. Normally you'd pay $360 for a 6 pack but for the next 2 weeks only pay $300. BUY NOW