14 November 2016 | John Quinn
Winemaker of the Month - Sorby Adams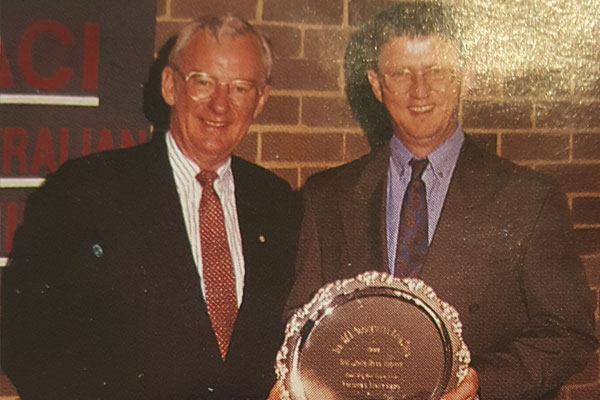 A young Sorby collecting a trophy from his Yalumba days with The Governor-General of Australia, Bill Hayden
I must admit I don't know Simon that well but every time we email or chat it's like I've known him for ages. It just feels comfortable. As a marketer I pride myself on having a great affiliation with winemakers, love their chat and am in awe of their craft. I asked Sorb to share a few things with us.
Q. Not everyone in your family is known as a Sorby Adams, are you the black sheep?
A. We are all "Sorby Adams" – I was always called "Sorb" at school and it has stuck since then.
Q. Where did Sorby come from?
A. A Sorby married an Adams about 200 years ago and it's been our family name ever since. I actually just changed my surname from Adams to Sorby Adams 12 months ago!
Q. Was it obvious to Mum and Dad that you'd end up a winemaker?
A. I think when I was caught pinching the sherry from the cupboard when I was 11 they both knew!!
Q. The biggest influence in your career?
A. Brain Walsh – my boss at Yalumba. He started at Yalumba just after I took over the red wine portfolio and he encouraged me to go with my gut feel. We had a beautiful journey the next 12 years and resurrected Yalumba's red wine reputation. Created Menzies, Octavius and The Reserve as well as Signature.
Q. Great sub-brands in the industry still today, were they driven by winemaking and/or marketing, surely they couldn't have been accountant's wines?
A. Menzies was market driven as Yalumba had no Coonawarra product. I started it in 87 and the fruit was bought from growers and then Yalumba purchased vineyards in Coonawarra.
Octavius and Reserve were very much winemaker wines. I started Octavius in 88 with a Coonawarra Cab!! Second release from 90 was Barossa Shiraz and has remained that way since. The oak is unique and back then it was 8 year air dried American and made at the Cooperage at Yalumba. We shifted the cooperage in 88 from the old site and discovered a pallet of timber that was originally bought as repair wood for American oak puncheons. Anyway it was never used and I said to Andy Broad (the cooper) to make small barrels with it and we probably would use them for port maturation. Anyway he was firing the barrels and he called me and said 'Sorb these smell weird' so I had a look and said 'holy shit mate that is so sweet' and then I decided to put what was the best batch of red from 88 into those barrels….. the rest is history!!
The Reserve I started in 90 and it was literally the best 15 barrels of Signature. It was made in 90,92 96 and 98 whilst I was still there.
I don't know how many trophies and gongs these wines won but they did put Yalumba reds back on the radar of the punters.
Q. Was Yalumba in a sense a big family winemaker rather than a corporate entity?
A. Yalumba prides itself on 'Family' and it was a pleasure to work there for 20 years. I was lucky to be given the job of red winemaker when I was 25 and I busted my freckle to put some TLC back into what was a pretty fucked portfolio of reds.
Q. The most memorable, not necessarily best, wine you've made?
A. The most memorable wine was 87 Galway Hermitage. It was about to be deleted as the sales were plummeting but then in 89 it won a trophy in Canberra and sales went through the roof. Marketing gave me a bollocking coz they said I had stuffed up all their plans!!
Q. I was at Penfolds at the time and you stuffed our marketing plans too.
A. Good.
Q. You're writing a 'Work In Progress/ Things To Do' paper, what's at the top of the list?
A. Go camping with Jill.
Q. What made you choose the Reverend Canon from your portfolio for Iconic Winemakers?
A. I chose a wine that has some real history in our family. "Uncle Keith – The Reverend Canon Sorby Adams AM" was a legend of a man both as a Minister and Headmaster during his life. He was our Grandfather's brother.
Q. You seem direct, to the point but a sense of humour as well?
A. Yep