15 November 2016 | John Quinn
Winners are grinners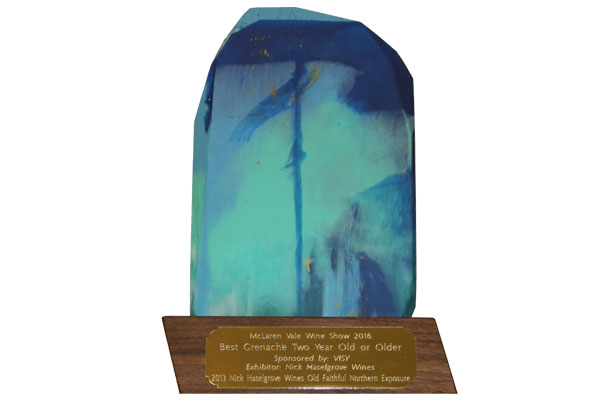 The Bushing Festival's Grenache Trophy, yeah Nick thinks it looks like a boogie board too.
Congratulations to Nick Haselgrove and a new addition to our winemakers Damian North. Both have achieved great success at their recent wine shows. Read on;
Nick Haselgrove's 2013 The Old Faithful Grenache has taken out the '2016 McLaren Vale Wine Show Best 2 years and Older Grenache' Trophy. Try saying that after your 3rd glass. The image of the trophy is above, it looks like a boogey board? I love the fact Nick is somewhat of an old timer when it comes to winemaking. This Grenache is a typically full bodied style from McLaren Vale, has been matured in French oak for 40 months and bottled under a traditional cork closure. Nick uses the DIAM cork. When asked about the DIAM cork Nick told me 'Diam is a technical cork – ground up then pressure formed once ALL taints are removed by supercritical CO2. It is very consistent in its performance criteria – not just TCA but O2 transmission rates & leakage'.
Grenache is not new to McLaren Vale in fact a lot of the locals pride themselves in their Grenache offerings. Nick offers some thoughts of his 2013 trophy winner "McLaren Vale has a wonderful legacy of the olden day fortified era – with the result a patchwork of old bush vines scattered around the district in unique . Old and gnarly, these vineyards produce, in the right places, a complex amalgam of flavours and characters that are unique to the region. Low yielding and mostly unirrigated then allowed to work for their fruit we end up with a distinct purity of flavour that makes any winemaker excited about the future of the grape. McLaren Vale has captured this spirit and The Old Faithful is capturing it into a bottle with all the fun and history of the region.
Enjoy the 2013 Northern Exposure as it is a great year and shows its place and the ability of the wine to age with careful cellaring."
To celebrate Nick has offered an introductory offer of buy 5 get 6 bottles. Just click 'buy now' and the price will be calculated automatically.