18 July 2016 |
John Quinn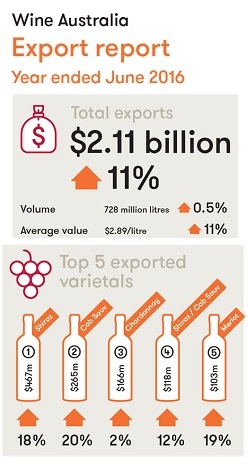 Wine Australia has released its latest Export Report, which shows the value of Australian wine exports has continued to experience strong growth over the past 12 months.
From July 2015 to the end of June 2016, the value of Australian wine exports grew by 11 per cent. The growth was driven by bottled exports, particularly at higher price points. Bottled exports grew by 15 per cent to $1.7 billion and the average value of bottled exports increased by 9 per cent to $5.35 per litre, the highest since October 2003.
Wine Australia CEO Andreas Clark said: "Pleasingly, demand for Australian fine wine has continued to grow, particularly in North America and Asia.
"Our finest wines contributed to almost half of the total value growth in the last 12 months, with exports priced at $10 free on board (FOB) and over per litre up 26 per cent to a record $499 million.
"This increased demand for Australia's finest wines was reflected in all of our top five export markets.
"Exports priced $10 FOB and over to the United States grew by 16 per cent, mainland China by 71 per cent, the United Kingdom by 15 per cent, Canada by 12 per cent, and Hong Kong by five per cent.
"This growth contributed an additional $102 million to the value of Australia's wine exports."
Earlier this year, TheShout reported that the Chinese wine market, which incorporates both China and Hong Kong, is now a bigger market that the US for Australian wine.
Wine Australia general manager of marketing, Stuart Barclay, told TheShout that the 66 per cent growth in the Chinese market represented both volume and value sales.
"The Chinese market is still very strong, and when you combine this with the Hong Kong market it is worth over $500 million. The growth is coming from across China at lots of different price points, including very strong growth for sales above $10," Barclay said in April.
"By comparison, the US market is one of our toughest markets. This used to be a $1 billion market and we are now doing around $440 million."
The latest Export Report shows that the US wine market grew by eight per cent to $449 million in the 12 months to June 2016, while China grew by 50 per cent to $419 million. The Hong Wine market was up by 11 per cent to $124 million.
In total wine exports reached $2.11 billion, an increase of 11 per cent on the previous year. All export regions recorded growth in the last year, except for Europe, which declined by one per cent to $574 million. Northeast Asia continued to lead growth, with value increasing by $158 million (34 per cent) to $618 million. Next in absolute growth was North America, growing by $46 million (8 per cent) to $646 million. Growth slowed to Southeast Asia, up $7 million (5 per cent) to $142 million.
In the US the trend towards Australia's premium wines continued with exports priced $10 and above per litre FOB increasing by 16 per cent, reflecting the improving perception of Australian wine among the US trade, with a growing number of importers taking on more premium Australian brands.
Clark added: "There is still much work to do in increasing the awareness and availability of premium Australian wine in the US. To continue sustainable growth in our most valuable market requires a long-term approach and a focus on re-establishing relationships and confidence in the category, supported by significant, consistent investment to drive the Australian fine wine message."