19 August 2016 |
John Quinn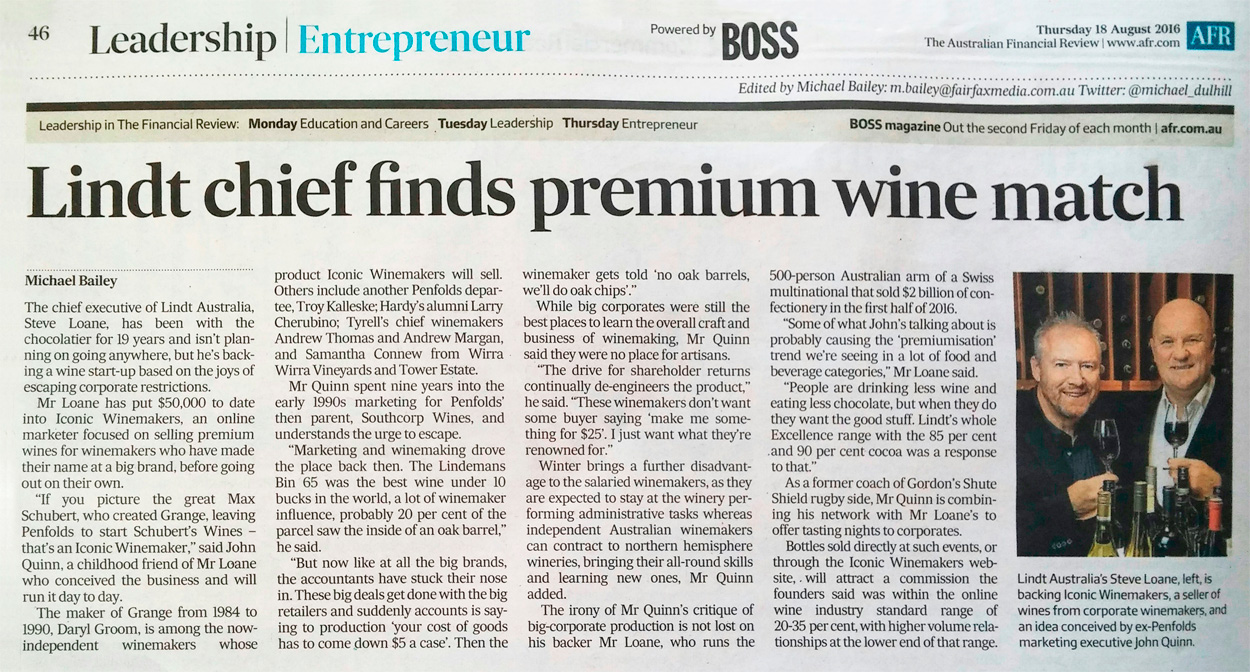 Lindt Australia's Steve Loane, left, is backing Iconic Winemakers, a seller of wines from corporate winemakers, and an idea conceived by ex-Penfolds marketing executive John Quinn.
The chief executive of Lindt Australia, Steve Loane, has been with the chocolatier for 19 years and isn't planning on going anywhere, but he's backing a wine start-up based on the joys of escaping corporate restrictions.
Mr Loane has put $50,000 to date into Iconic Winemakers, an online marketer focused on selling premium wines for winemakers who have made their name at a big brand, before going out on their own.
"If you picture the great Max Schubert, who created Grange, leaving Penfolds to start Schubert's Wines - that's an Iconic Winemaker," said John Quinn, a childhood friend of Mr Loane who conceived the business and will run it day to day.
The maker of Grange from 1984 to 1990, Daryl Groom, is among the now-independent winemakers whose product Iconic Winemakers will sell. Others include another Penfolds departee, Troy Kalleske; Hardy's alumni Lany Cherubino; Tyrell's chief winemakers Andrew Thomas and Andrew Margan, and Samantha Connew from Wirra Wirra Vineyards and Tower Estate.
Mr Quinn spent nine years into the early 1990s marketing for Penfolds' then parent, Southcorp Wines, and understands the urge to escape.
"Marketing and winemaking drove the place back then. The Lindemans Bin 65 was the best wine under 10 bucks in the world, a lot of winemaker influence, probably 20 per cent of the parcel saw the inside of an oak barrel," he said.
"But now like at all the big brands, the accountants have stuck their nose in. These big deals get done with the big retailers and suddenly accounts is saying to production 'your cost of goods has to come down $5 a case'. Then the winemaker gets told 'no oak barrels, we'll do oak chips'."
While big corporates were still the best places to learn the overall craft and business of winemaking, Mr Quinn said they were no place for artisans.
"The drive for shareholder returns continually de-engineers the product," he said. ''These winemakers don't want some buyer saying 'make me something for $25'. I just want what they're renowned for."
Winter brings a further disadvantage to the salaried winemakers, as they are expected to stay at the winery performing administrative tasks whereas independent Australian winemakers can contract to northern hemisphere wineries, bringing their all-round skills . and learning new ones, Mr Quinn added.
The irony of Mr Quinn's critique of big-corporate production is not lost on his backer Mr Loane, who runs the 500-person Australian arm of a Swiss multinational that sold $2 billion of confectionery in the first half of 20l6.
"Some of what John's talking about is probably causing the 'premiumisation' trend we're seeing in a lot of food and beverage categories," Mr Loane said.
"People are drinking less wine and eating less chocolate, but when they do they want the good stuff. Lindt's whole Excellence range with the 85 per cent and 90 per cent cocoa was a response to that."
As a former coach of Gordon's Shute Shield rugby side, Mr Quinn is combining his network with Mr Loane's to offer tasting nights to corporates.
Bottles sold directly at such events, or through the Iconic Winemakers website, will attract a commission the founders said was within the online wine industry standard range of 20-35 per cent, with higher volume relationships at the lower end of that range.