2014 Miss Harry Rhone Blend by Dean Hewitson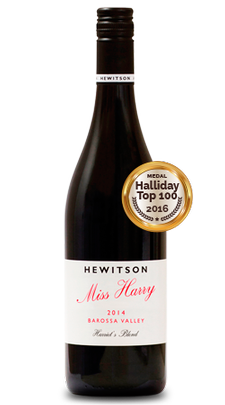 Miss Harry is the nickname of Harriet Hewitson, the daughter of winemaker Dean Hewitson. Harriet was born coinciding with the first vintage. The 2014 vintage is a blend of Grenache, Shiraz, Mourvèdre, Carignan and Cinsault. These varieties are historically grown in the southern Rhone Valley of France near the Mediterranean, and are blended together to make the local wine. These varieties also have a natural affinity for the Barossa Valley.
Grape Variety: 48% Grenache, 18% Shiraz, 15% Mourvèdre, 10% Carignan, 9% Cinsault.
Region: Barossa Valley
Specifics: Alc/Vol: 14% Acidity: 5.2 g/L pH: 3.52
Maturation: 12 months seasoned French oak barriques
Soil: Ranging from ancient oxidised ferrous soil, limestone and sand to gravel.
Vine Age: Ranging from younger selections massale of century old vineyards to 140 year old vines
Colour: Bright red with a medium purple hue.
Nose: The aroma is of cherries, strawberries, spice and Provencale herbs.
Product Reviews