The Connoisseur - Stainless Steel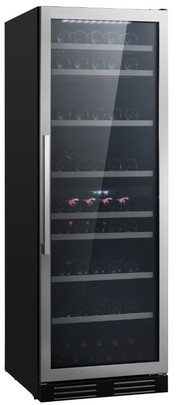 VINCEL is owned by the HRC Alliance Group, a commercial refrigeration company on the East Coast of Australia who has supplied refrigeration services for over 20 years.
Wine fridges are an affordable and accessible option for everyone. Bringing the best into home, new kitchen design or home bar.
Whether you are simply looking for a better storage option or are a serious wine lover, you are bound to find one of our fridges to suit.
What better way to store your iconic wines from Australia's Iconic Winemakers'.
Product Specifications:
Width 595mm, Height 1765mm, Depth 677mm.
Dual temperature zone-
5 - 10 degrees Celsius Upper compartment.
10 – 18 degrees Celsius Lower compartment.
Stainless steel frame with a clear glass door.
Smash proof tempered glass.
Anti- fog glass coating.
8 timber shelves.
Adjustable feet.
Reversible door hinges to open left or right.
Digital temperature display and controls.
Temperature alarm
Includes both LED blue or white lights.
Lockable.
Low vibration and quiet operation.
2 year warranty and replacement guarantee for a faulty unit.
Product Reviews