Andrew Margan
Hunter Valley
Semillon
Margan Wines was established in 1997 by Lisa and Andrew Margan in the beautiful Broke Fordwich sub region of the Hunter Valley. All Margan Wines are 100% estate grown-estate made from the Margan Old Vine Vineyards. As winemaker, Andrew's philosophy is to produce wines with clear varietal and regional definition. They are made from grapes from the old vine Margan vineyards (many grown on the rare volcanic plug known as the Fordwich Sill) and are handcrafted in the winery with attention and care. Margan wines retain their regional heritage while having their own contemporary personality.
Andrew was born into a 'wine family' when his father, Frank, first planted grapes in the Hunter Valley in 1965 on the Margan owned De Beyers Vineyard. Being situated next door to the Tyrrell property it provided Andrew with plenty of early winemaking experience and a desire to be a winemaker.
As well as two science degrees, Andrew had a 'hands on' apprenticeship with the late, great Murray Tyrrell who was one of the best winegrowers of his time. He taught the importance of the relationship between the vineyard and the finished wine, which is exactly what Andrew has based his current winegrowing philosophy on.
In 1987 Andrew moved to France where he worked in the Graves region of Bordeaux. He continued on as winemaker for a négocient company, based in Bordeaux and making wine in other regions as well. A final stint in the former C.I.S. state of Moldova concluded his 4 years of 'flying winemaker' before returning to the Hunter Valley.
In 1997 after notching up more than a decade of vintages at Tyrrell's, Andrew decided to fulfil a long held dream and launch his own wine brand simply named MARGAN. They now have 320 acres of low yielding 40 year old vines (originally established by Lindemans and Saxonvale), as well as a state-of the art winery. In 2007, the 10th anniversary of MARGAN, Andrew and Lisa opened their stylish new cellar door and restaurant at the Broke Home Block vineyard.
Andrew was the founding President of the Broke Fordwich Winegrowers Association and filled that position for 9 years. He was a Board Member of Hunter Valley Wine Country Tourism from 1998-to 1999 and was awarded the prize for Individual Contribution to Local Tourism at the 1999 Hunter Tourism Awards. From 2005 till 2008 Andrew sat as Vice-Chairman of Wine Hunter Marketing before taking the founding role of Vice-President and Marketing Committee head of the Hunter Valley Wine Industry Association. He also sits on the Small Winemakers Committee of the Winemakers Federation of Australia.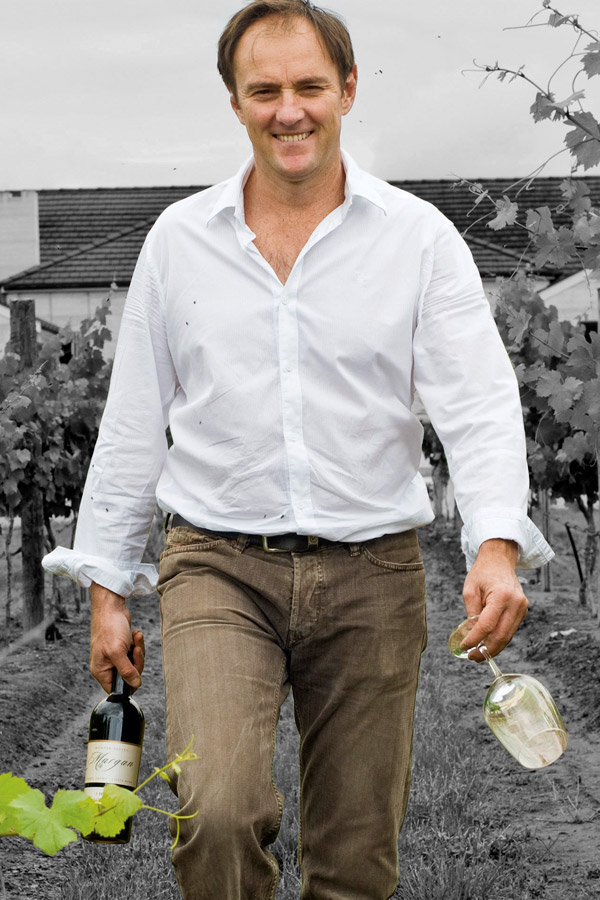 ---
Margan Limited Release
2015 Margan White Label Semillon
---

WINEMAKERS NOTES
The 2015 vintage was great for whites in the Hunter. The grapes for this wine were handpicked and cold fermented in stainless steel to trap all the fine fruit characters available. The rich volcanic soils of the Broke Fordwich sub-region of which this fruit is sourced, leaves its footprint by way of a uniquely generous texture and mouth feel at a young age, allowing this wine to be easily approached now and also to age gracefully over the next 10-15 years.
TASTING NOTES
The fruit for this wine was picked early, to maintain the high natural acidity with a low alcohol. This created a light bodied wine with fresh vibrant flavours and a lingering finish.
REGION
Broke Fordwich, Hunter Valley
VINEYARD
Fordwich Hill
BLOCK
Fordwich Hill Young Vines (planted 1993)
COLOUR
Pale straw with a watery rim
NOSE
Grapefruit, Lemon, Cordite
PALATE
White Grapefruit, Fresh Lemon, Minerality
FOOD MATCH
Fresh oysters, Tuna Sashimi
CELLARING
Drink now or cellar for 20 years +
WINE ANALYSIS
Alcohol - 12.6%
pH - 3.24
TA - 7.4g/l
Accolades
5 Star James Halliday Winery
---
2014 Margan White Label Shiraz
---

Hot dry summers here in the Hunter provides perfect ripening conditions for super ripe soft medium bodied red wine. Our 50 year old 1 tonne to the acre vineyards on the volcanic earth of the Fordwich Sill gives us plenty of opportunities to select our best block of shiraz to hand pick, ferment, and bottle on its own under our prestigious White Label. Limited quantities of this wine are produced in only the best vintages.
TASTING NOTES
Partial carbonic maceration results in a complex but approachable red wine with velvety smooth tannins. The rich savory palate and intense black fruit flavors ends with a crisp lingering acidity.
REGION
Broke Fordwich, Hunter Valley
VINEYARD
Timbervines Vineyard
COLOUR
Ruby Red
NOSE
Plum, Tobacco Leaf, Blackberry
PALATE
Mulberry, White Pepper, Cocoa Bean, Crème de cassis
FOOD MATCH
Smoky Pulled Pork, Venison Carpaccio
CELLARING
15 to 20 years
WINEMAKERS NOTES
The 2014 vintage was a once in a lifetime vintage. Perfect ripening conditions provided grapes in perfect balance that have allowed me to make a ripe red wine with lots of acid and a fine structure unlike any other area in Australia can produce. These grapes were selected from a block of original clone stock and fermented with some stalks. The wine was placed in a mixture of 1 and 2 year old oak barriques for 14 months where it softened and grew prior to bottling. This wine will age for at least 30 years.
WINE ANALYSIS
Alcohol - 13.6%
pH - 3.38
TA - 7.2g/l
Accolades
5 Star James Halliday Winery